If you are a music lover, you can think about going forward and getting the Fildo Music App installed on your device. It is one of the most impressive music apps available to consider.
In other words, it will provide you with access to a variety of music genres, which include rock, jazz, romantic, and soft. Once you start using the app, you will be able to quickly search for your popular music files and then enjoy them at the comfort of your home.
How To Install Fildo Music App On Your Android & iOS?
Any person who has an Android device or an iOS device will be able to go ahead and install Fildo App. If you are using an Android device, you need to access the Google Play store and then search for Fildo Music. Then you can locate the app and download it.
People who are using iOS will be able to find the Fildo App on the official site and download as well. The process of downloading Fildo Lite App isn't similar to the steps that you have to follow in order to download any other app into the device.
Must Read: Click here to know complete guide to setup Fildo App on your iOS device.
Features
Fildo Music has got a user-friendly interface. Therefore, you will find it as an easy task to use the app upon downloading it into your device. Then you will notice some outstanding features offered by the Fildo App as well.
One of the most outstanding features that you can discover in Fildo App is that it can help you to pull audio track collections, which belong to a variety of genres. You will be able to stream the music and enjoy them. In other words, you don't need to allocate any storage space from your device to enjoy music tracks.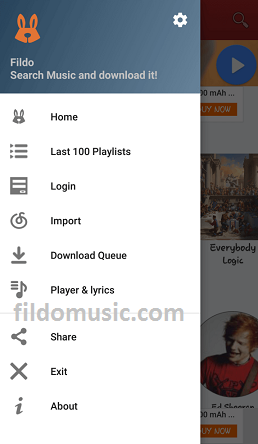 In order to use Fildo, you don't have to pay a subscription fee. Likewise, you don't have to restrict yourself to an extra usage fee as well. You are provided with complete freedom to play any track that you want with the help of Fildo Music.
It is quite easy to use as well. On the other hand, you will be able to download Fildo Music without making any payment.
The app interface is equipped with high-quality graphics. This can deliver an enhanced experience to all the people who use the app.
You will be able to find an advanced search engine on it as well. Using this search engine, you can locate your favorite songs based on the track name, artist name, and even the genre. The app is supporting lyrics as well.
When you keep on listening to songs on Fildo App, you will come across the need to create playlists. You have the freedom to create such playlists on your device, according to your specific preferences.
You will also be able to create multiple playlists. On top of everything, you are provided with the chance to use Fildo Music App in offline mode. And get the functionality offered by it.
Similar Posts: